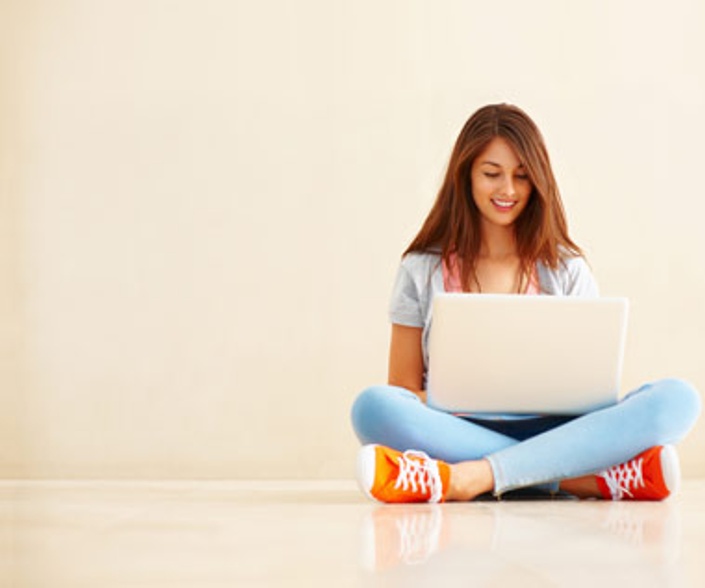 Making thousands of software engineers more productive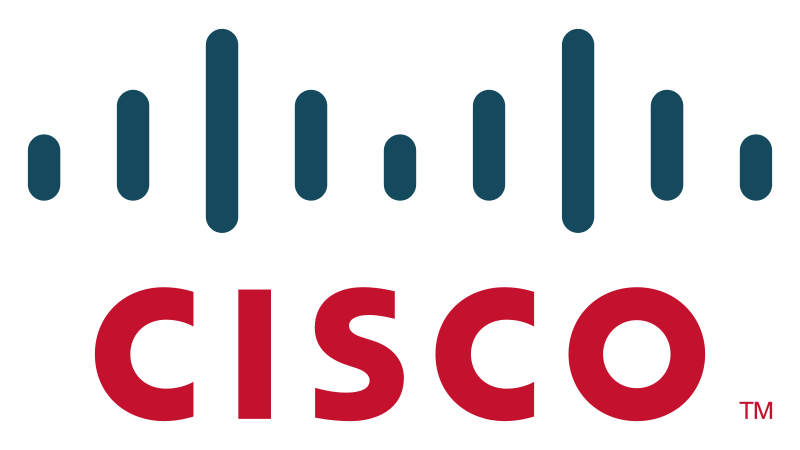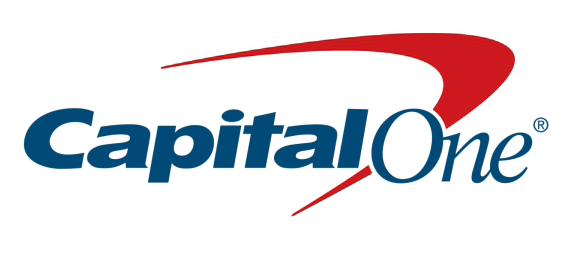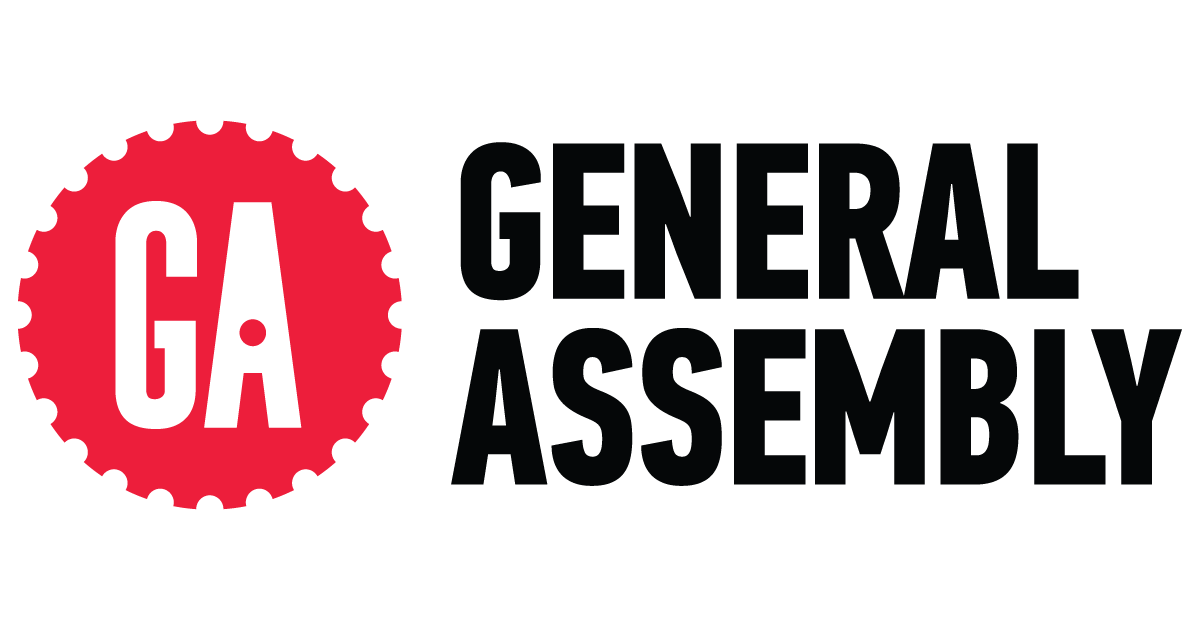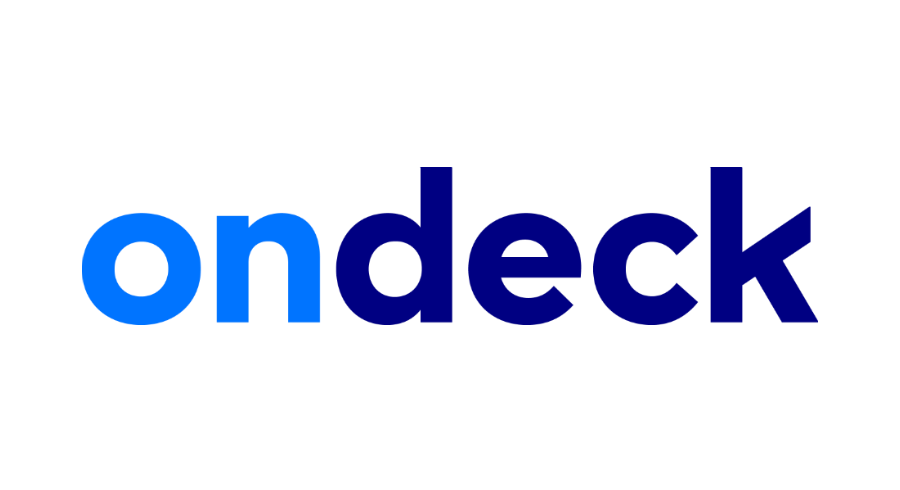 Node University was founded to create a bridge between industry expertise and those who want to access this coding knowledge. This is your ultimate, the best and only online school with focus on Node.js and full stack JavaScript. As coding experts and educators, we are producing courses that are developed to transfer this modern knowledge as quickly and efficiently as possible.
Better Job and Salary
Increased Productivity
Good Quality Products
More Joyful Programming
Projects Delivered on Time
Job Promotion
The Benefits of Premium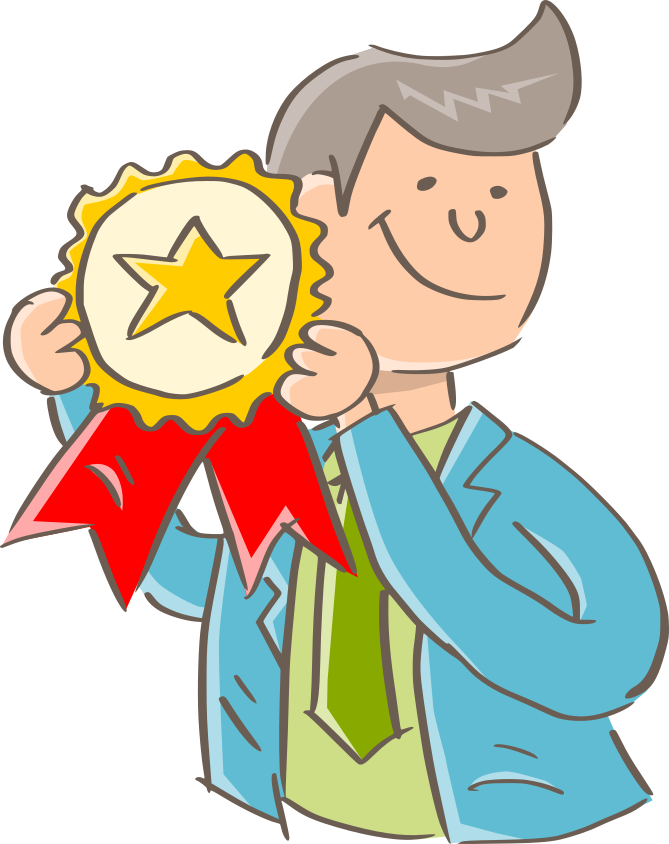 The benefits of Node University are:
Expert's Voice: NodeU courses are created and curated by Azat Mardan, one of the leading voices in JavaScript/Node.js.
Tracks: Clearly defined path and tracks for studying
No distraction
Video: NodeU courses can be studied at your own pace: download, speed up, skip-ahead, or rewind to learn the way that works for you.
No overwhelm: Focus on the best tech stack out there
Code: Coding exercises and sample projects explained with video commentary
We know that people interested in coding have a broad spectrum of different goals. From starting in the industry to finishing a work project to climbing the career ladder; we pride ourselves on having the content options to help a diverse set of learners.
In short, whatever you need help with in regards to Node and full stack JavaScript, we will have a solution for you!
Node University is All-In-One Solution for Newbies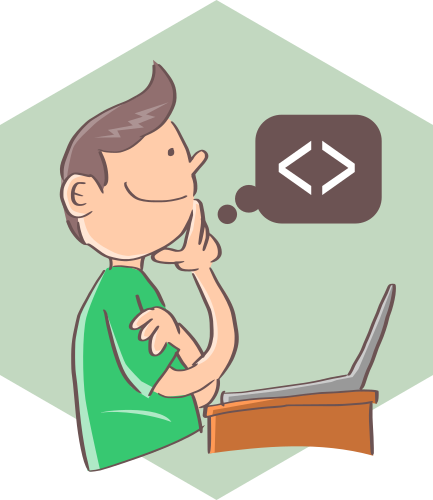 Node University courses and extra premium benefits such as one-on-one chat with experts will help those who just starting in programming (i.e., newbies to programming) because NodeU has clearly defined tracks such as front-end, back-end and others while focusing on the best, most popular and most used tech stack such as Node, Express, MongoDB, AWS and of course React, and GraphQL.
Avoid suffering through out-dated and boring material on Udemy. Stop watching distracting and incomplete YouTube videos. NodeU is not going to distract you by cat videos and it won't overwhelm you with 50 hour of content (such as some courses on Udacity or Udemy).
When you are just starting, it's very important that you learn and focus on one stack. It must be the best stack for your time and energy! There are too much material out there. Hear the voice of an expert, Azat Mardan, who build production Node apps for millions of users.
Want to start a career in coding
Clear path to learning
Expert voice
Look, we understand that coding is hard. We can't make it easy, but what we can do is make it EASIER for our students. And if you are strapped on cash, don't worry. This tuituon will pay in no time once you land your first coding gig. I promise that... of course if you act on the aquired knowledge. There's a huge demand for programmer all over the world!
Try Node University courses today. Profit tomorrow.
Node University is a Time-Saver for Programming Experts
As an expert in programming but a new person to Node, you might want to skip some topics and focus just on certain areas. You can start with back-end track and continue to front-end or start with DevOps and finish with mobile. Learning never stops, right? If we stop learning, we become obsolete and irrelevant in a blink of an eye. Learn full stack JavaScript and Node to stay relevant, for fun and profit. After learning at NodeU, you can do following:

Get a better job or earn more in their current position
Insure career and job security
Work faster and avoid costly mistakes
Be the hero that solves your team's big coding problem
Enjoy coding even more than they do now
Time is the most precious resource. You are already earning money but how you can get more time to enjoy your life or become more productive? You can learn new skills and invest in your future!

See NodeU tracks and course catalog to pick your next course.
Node University Courses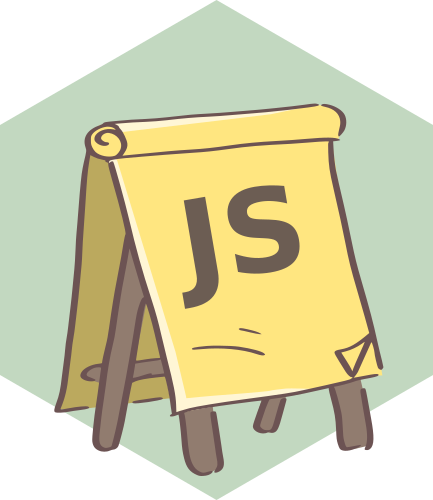 NodeU offers courses on full stack JavaScript. Not just Node but the whole thing: React for UI, Cloud, AWS and Docker for DevOps, MongoDB for database, Express for APIs and many other topics.
This is just a beginning. New courses, webinars, books and other content will be added every month.
The benefits of being a premium Node University member are obvious with the list of courses available growing every week. If Node and full stack JavaScript is your cup of tea, then look no further—enroll now.
Node University Tracks
Node University has many courses on different topics ranging from React, ECMAScript, Amazon Web Services, npm and of course Node itself. Every month, we publish new courses and webinars on recent new technologies or just to expand the curriculum.
The problem is where one starts? What courses to take and in what order? How to proceed?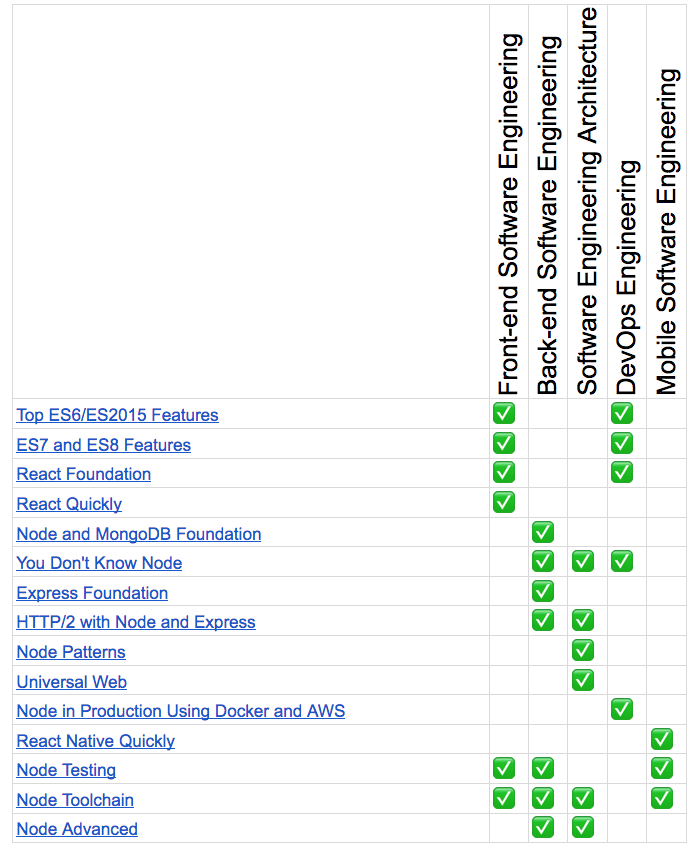 That's why we are putting together this guide. Meet the tracks:
Front-end Software Engineering - 6 courses
Back-end Software Engineering - 7 courses
Software Engineering Architecture - 6 courses
DevOps Engineering - 5 courses
Mobile Software Engineering - 3 courses
Let's see what courses are in each of the tracks.
Pick you track (what area you want to specialize in), and take courses one by one in the order listed.
If the link to a PDF above is not working, then try this Google Spreadsheet link directly.
PS: Don't forget to check the Library and Webinars for additional material.
Common Objections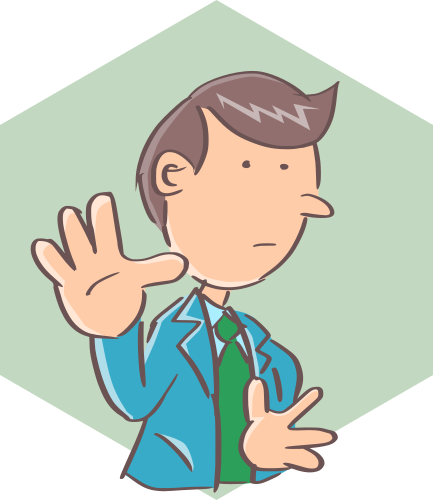 It's too expensive. Yes. It cost money but you might be missing on a bigger pie—the opportunity cost. Even more so. You might put your career and job security in danger by not learning the modern practices.
I'll register later. Tomorrow never comes. There will always be new things on your agenda in the future. Enroll now. Avoid procrastination.

There's no enough interesting courses for me. Node University expand with new courses every 2-4 weeks. Premium members have more vote weight and can propose topics for new courses.

If you tried to learn something new in your life, then you probably encountered at least one of the problems:

Too much information: YouTube, Google, Facebook, Amazon, Udemy... how to find the best experts without being tricked by fake reviews?
Too little information: Hours of searching on Google and Stackoverflow and you still can't find an answer, advice or solution
Poor format: Outdated and incomplete docs written in such incomprehensible language that you might think authors of libraries on purpose don't want any one to use them; inconsistent blog posts and ad-infested YouTube videos—all lead to wasted time, flow interrupt and distraction
How much do you value your time? Avoid spending it on poor resources. Time is not replaceable. Your mental energy either
Node University Certification
Node University certificates are great at showing to potential employers when looking for a new job or to your current boss when asking for a pay raise. NodeU certs quantify your knowledge and look great at your cubicle wall, desk and LinkedIn profile!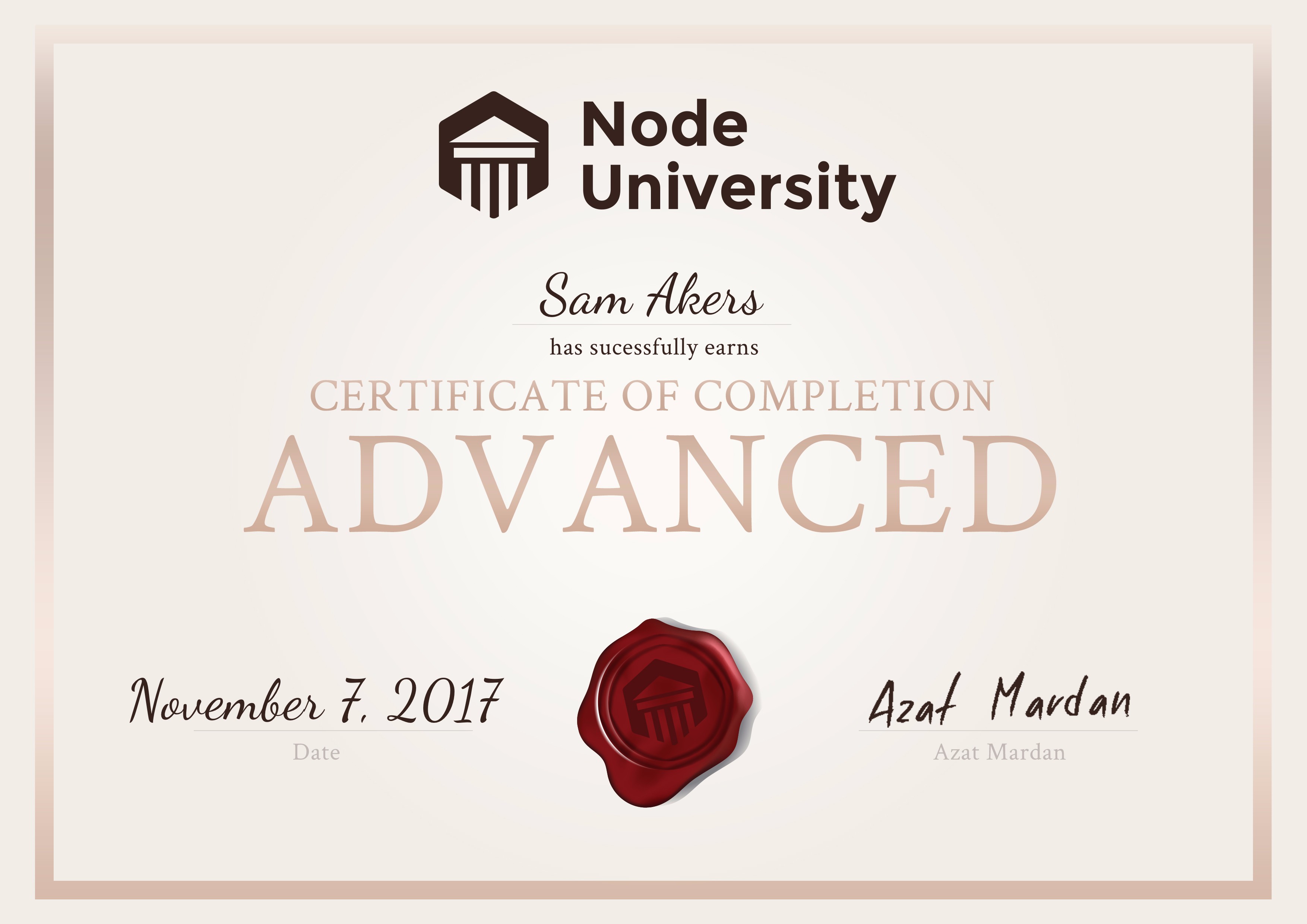 32 included with the membership (and counting)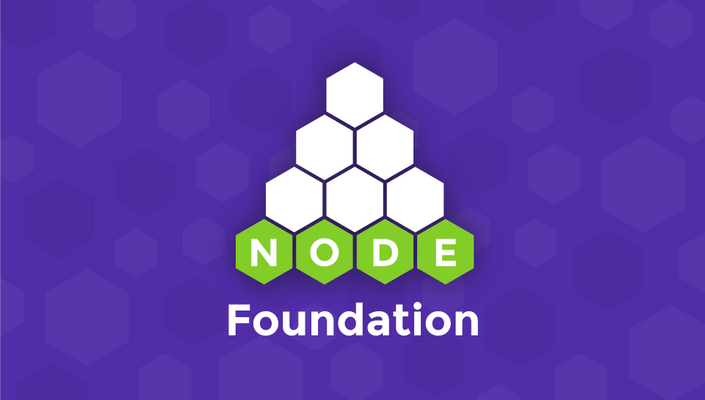 Node and MongoDB Foundation
Intro to Node and MongoDB for Absolute Beginners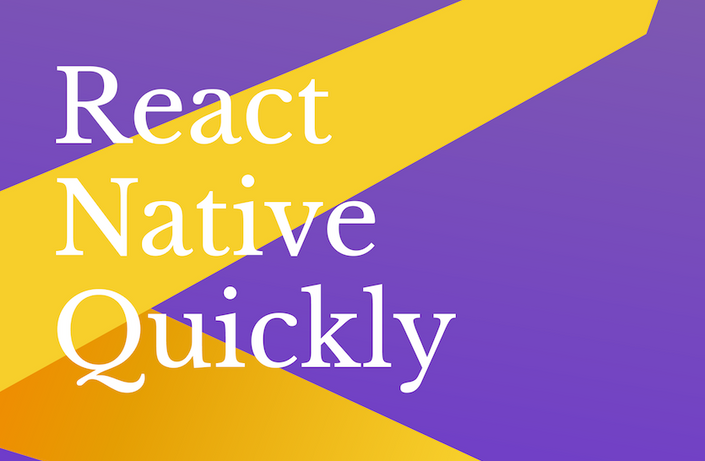 React Native Quickly
Start Learning Native iOS Development with JavaScript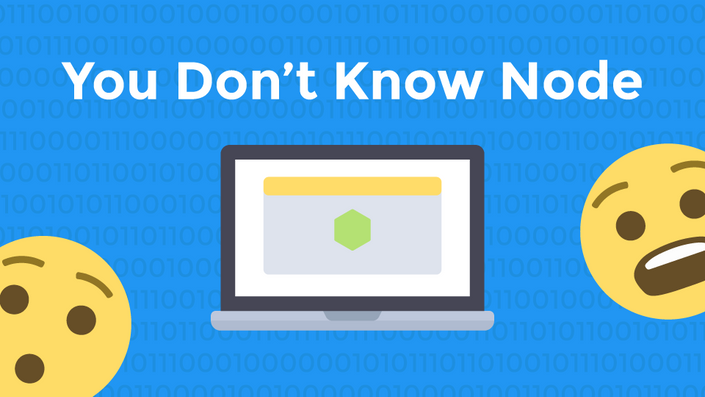 You Don't Know Node
Quick Intro to 5 Core Node.js Features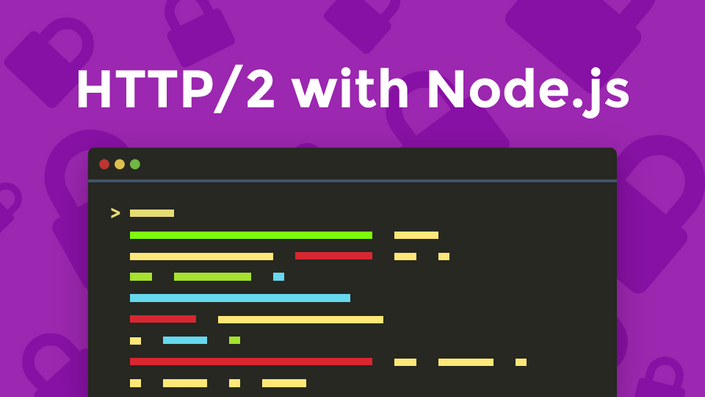 HTTP/2 with Node and Express
Implementing the Future of the Web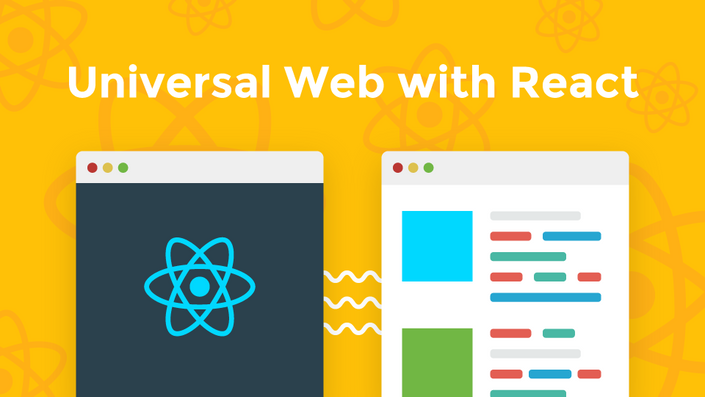 Universal Web
Implement Universal JavaScript With React and Express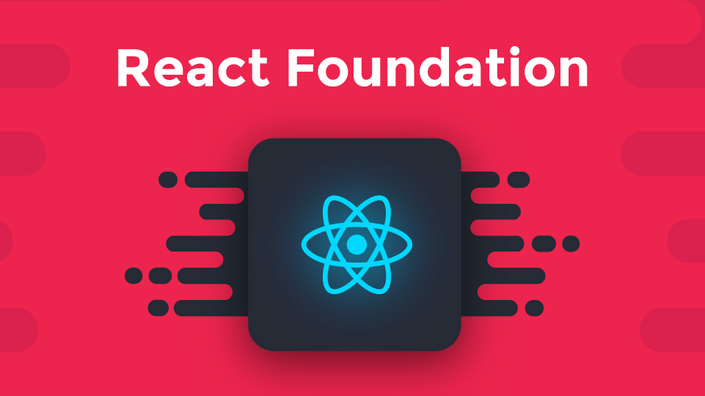 React Foundation
Start Developing with React.js, Babel and Webpack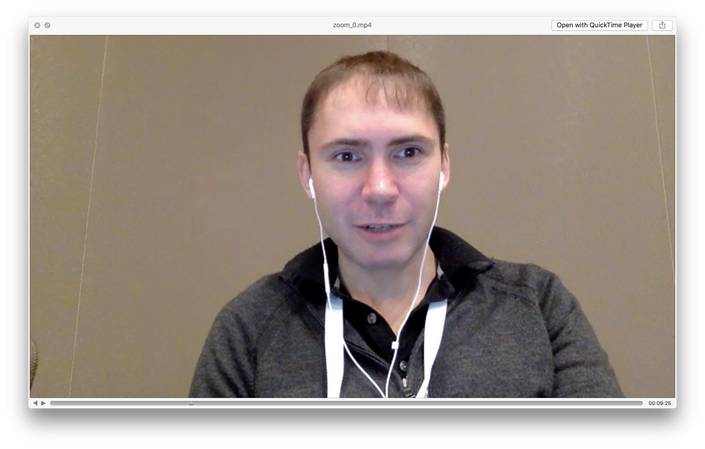 Webinars
Archive of webinars, Q&A, and hangouts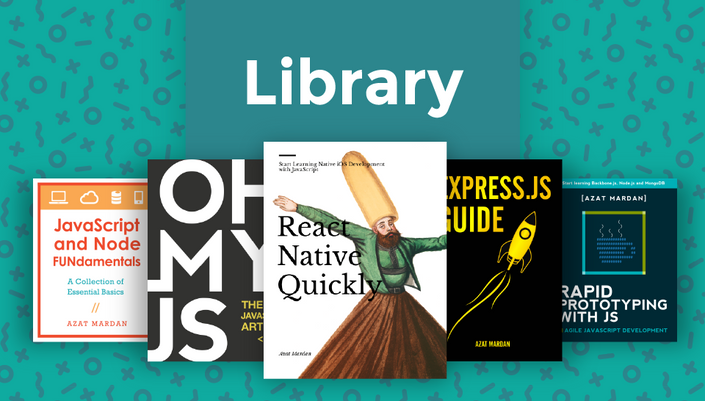 Node University Library
Archive of Books, Cheatsheets and Reports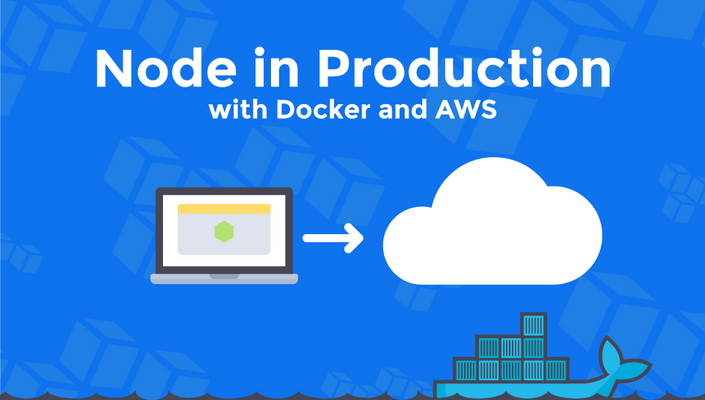 Node in Production Using Docker and AWS
Learn How to Create and Deploy Container Images for Node.js, MongoDB and Node Stack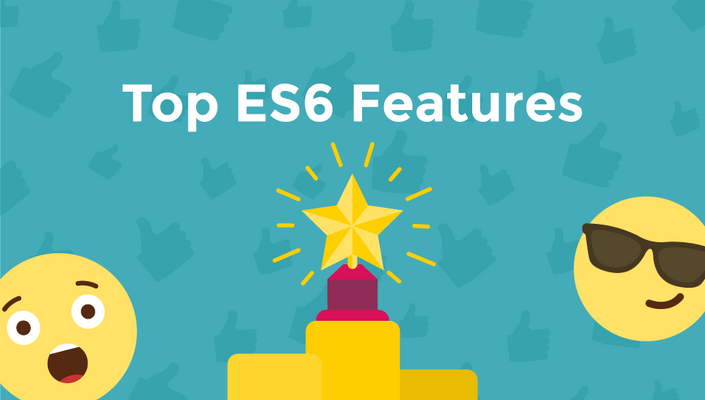 Top ES6/ES2015 Features
Everything Useful in ES2015 JavaScript Standard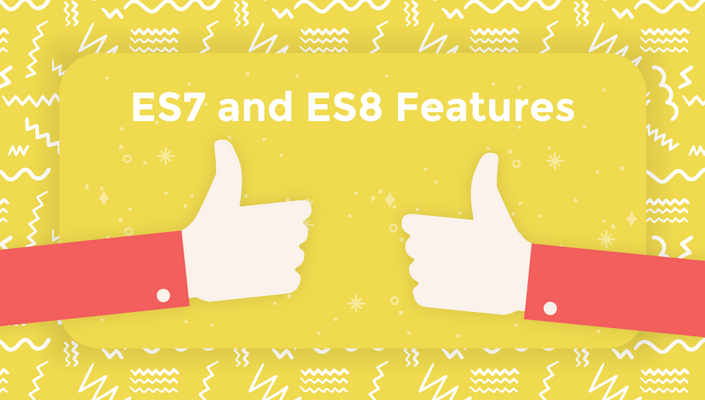 ES7 and ES8 Features
Everything You Need to Know About ES7/ES2016 and ES8/ES2017 ECMAScript Standard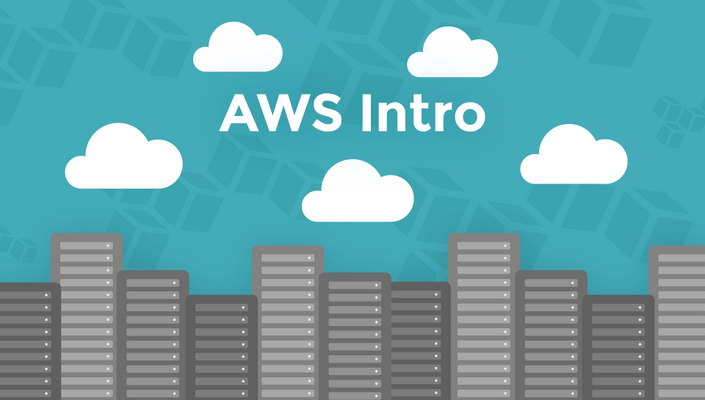 AWS Intro
Build Solid Foundation of Main AWS Concepts and Services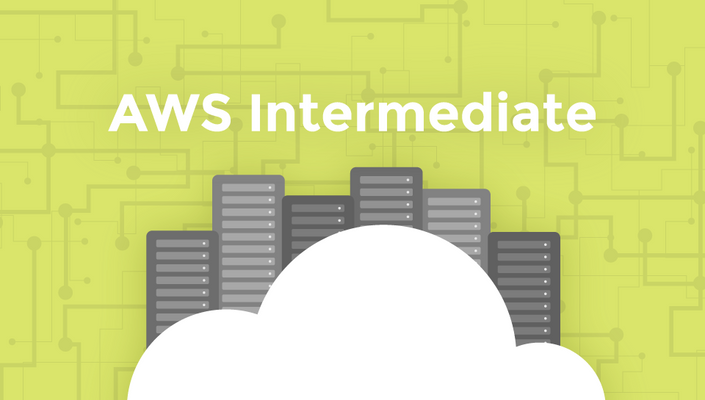 AWS Intermediate
All you need to know to start DevOps with AWS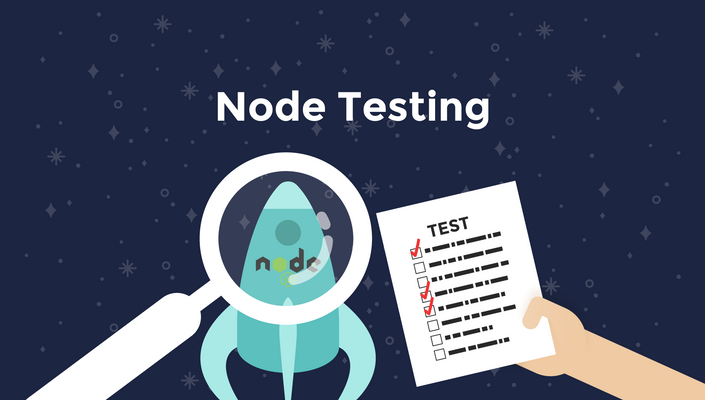 Node Testing
Master Node Testing TDD+BDD with Mocha, Expect, Axios, Superagent and Selenium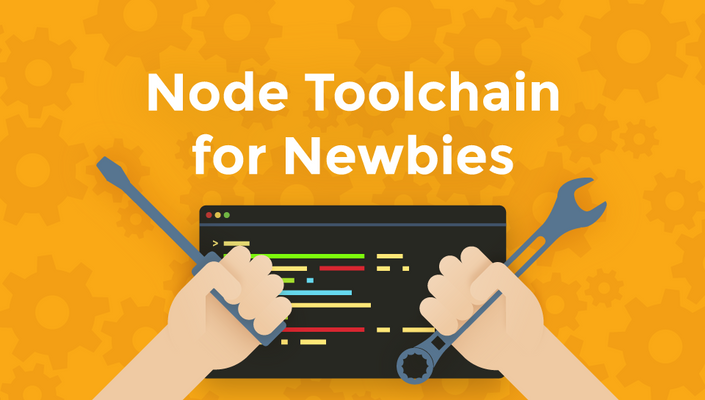 Node Toolchain
Everything you need to know to start work and stay productive with Node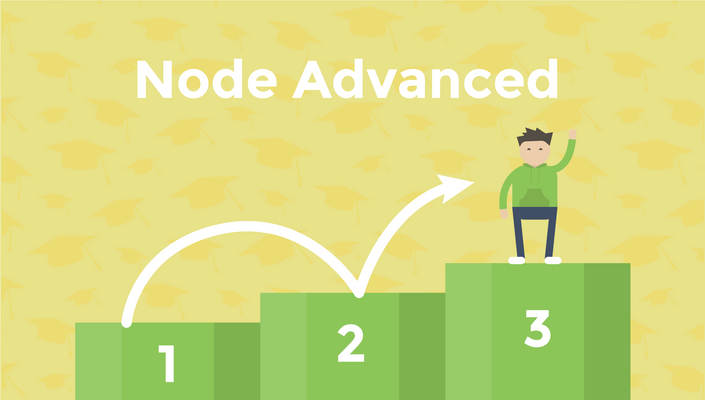 Node Advanced
Master the Hardest Node Concepts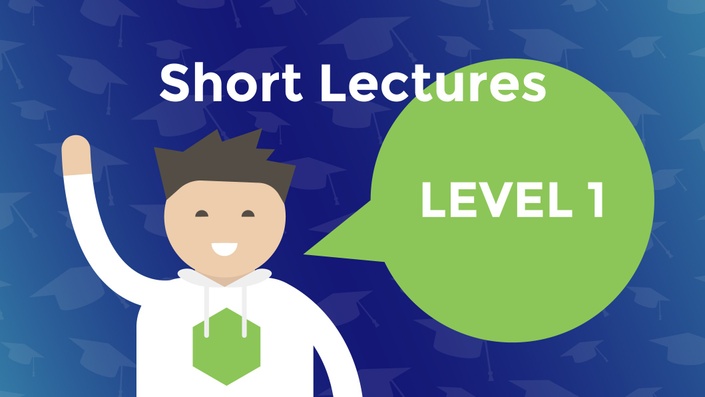 Node University Short Lectures
Bite-Size Episodes to Get You Started with Node and Full Stack JavaScript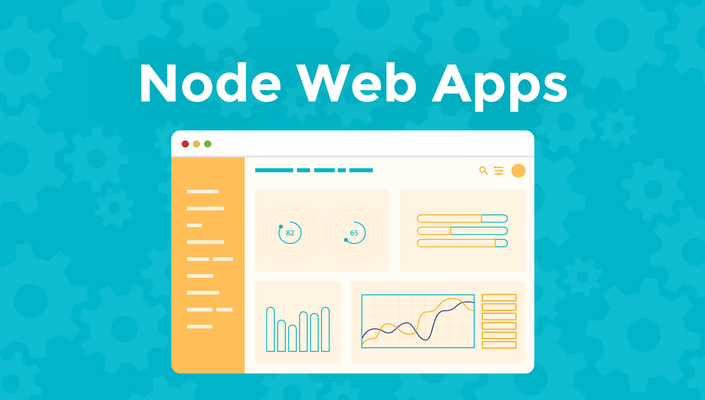 Node Web Apps with Pug
Master Server-Side Rendering Apps with Pug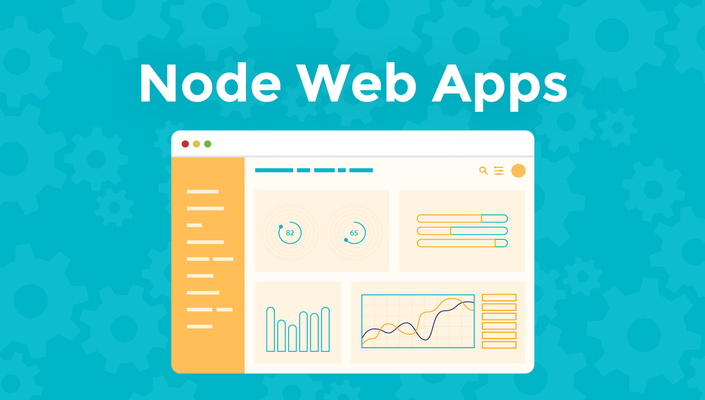 Node Web Apps with React
Master Server-Side Rendering Apps with React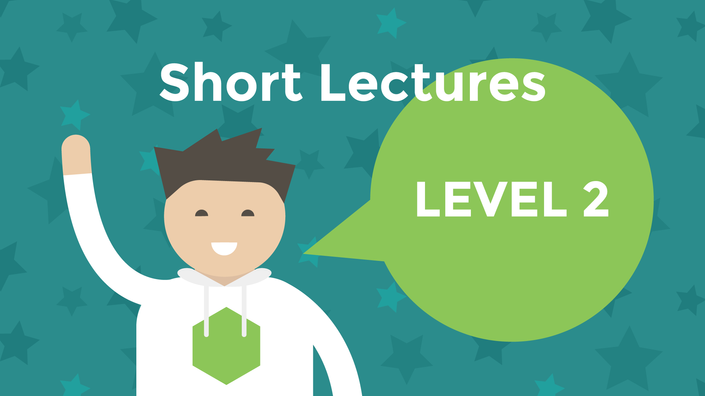 Node University Short Lectures 2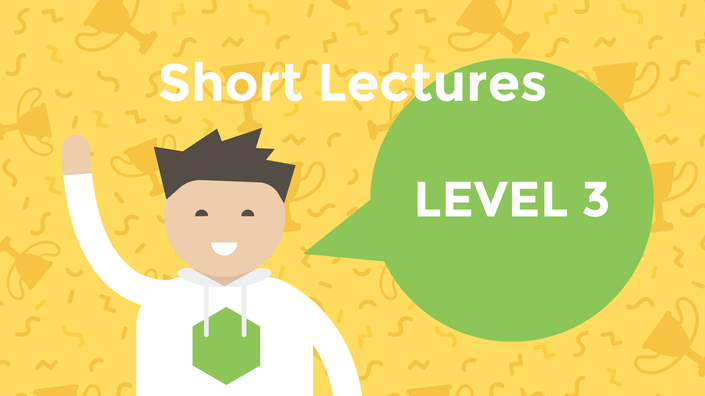 Node University Short Lectures 3 [Coming Soon]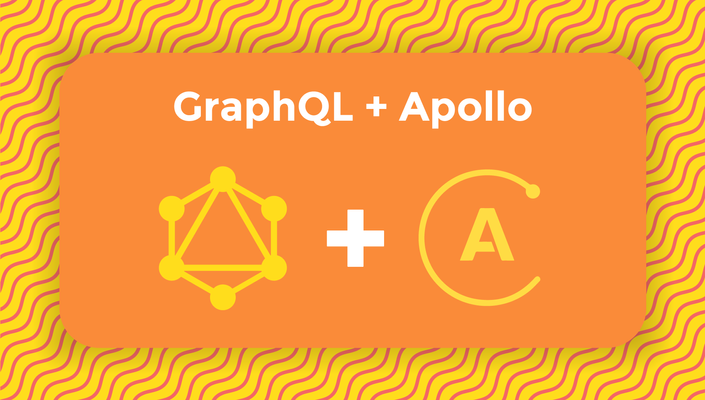 GraphQL + Apollo
Painless Data Flow for Your Apps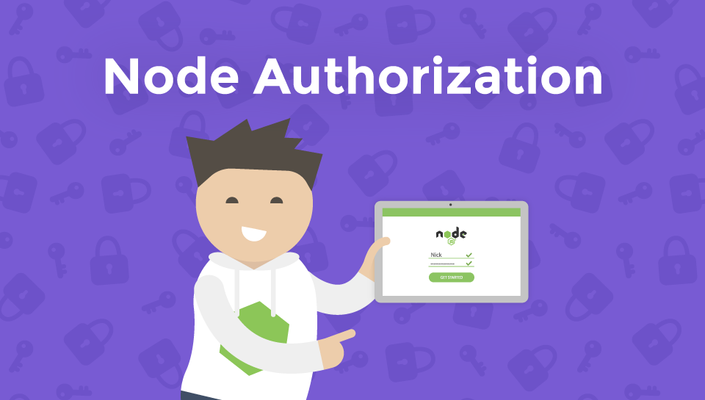 Node Authorization
Get started with Access Control List, Express and MongoDB Middleware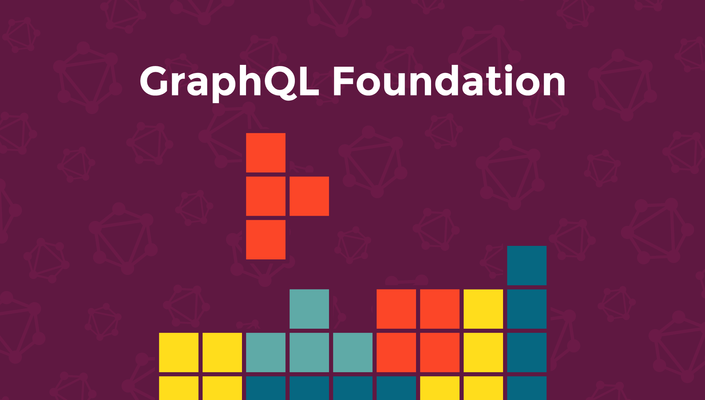 GraphQL Foundation
Get started with the GraphQL query language for seamless web development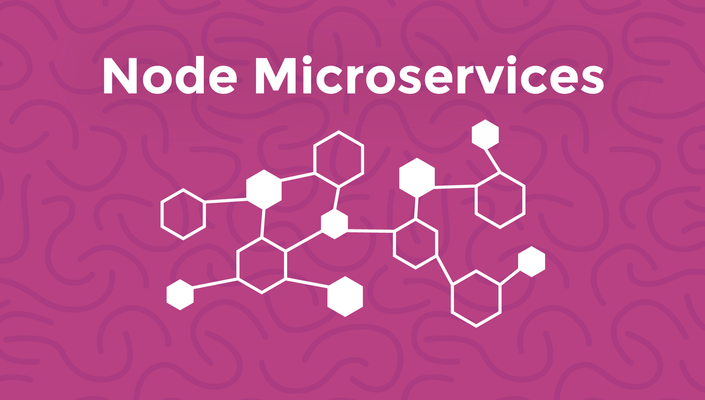 Node Microservices
Harness the power of Node for building microservices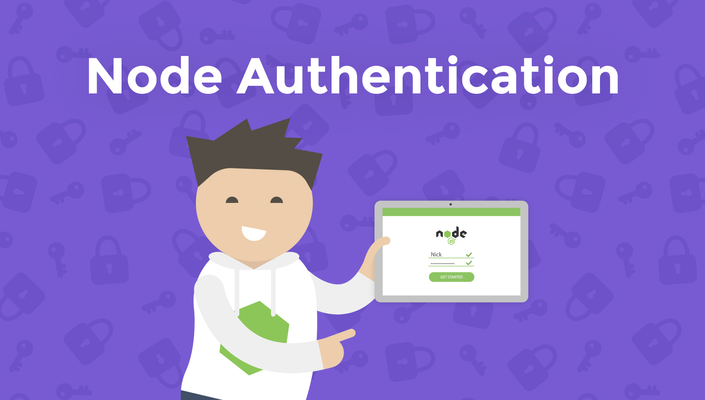 Node Authentication
Master Web Sessions, JWTs, CSRF and password Node Authentication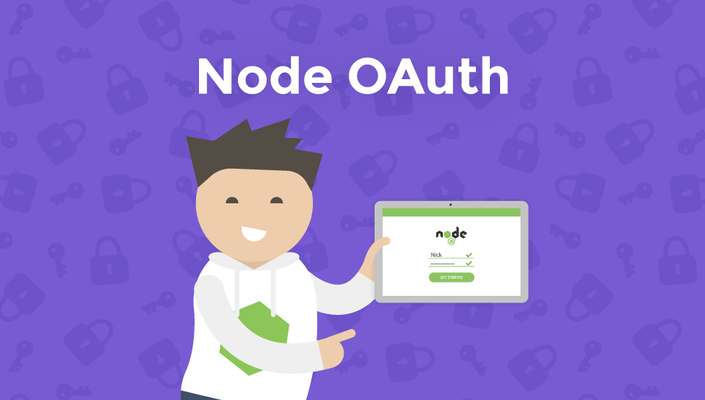 Node OAuth
Learn how to implement LinkedIn, Twitter, GitHub and other Logins by Using OAuth 1, 2, node-oauth and Passport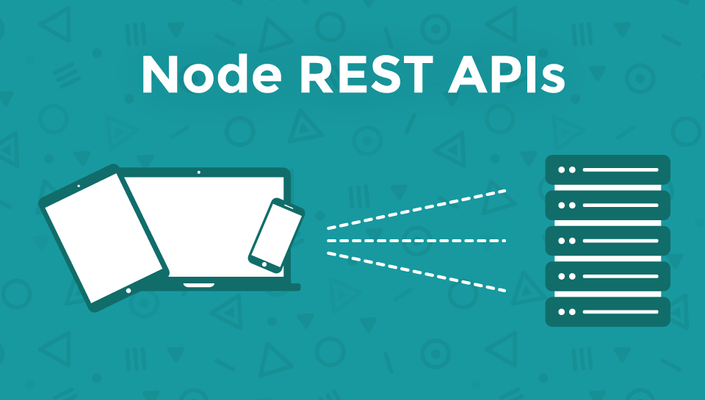 Node REST APIs
Learn Routing, Middleware and Database Methods to Build RESTful APIs with Node, Express and MongoDB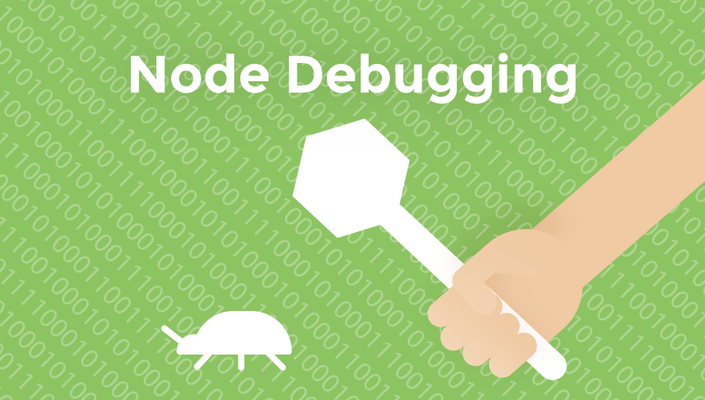 Node Debugging
Everything you need to know to be productive and fix annoying Node errors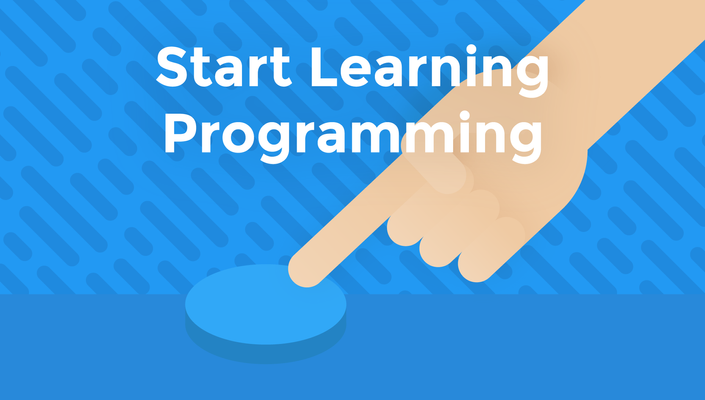 Start Learning Programming [Coming Soon]
From total beginner to being able code your own useful programs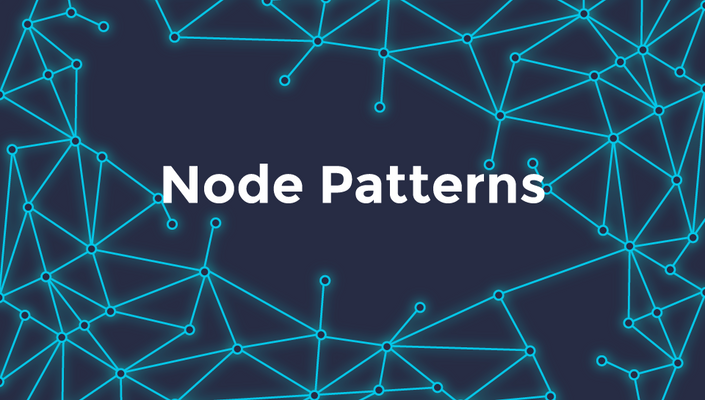 Node Patterns
From Callbacks to Observer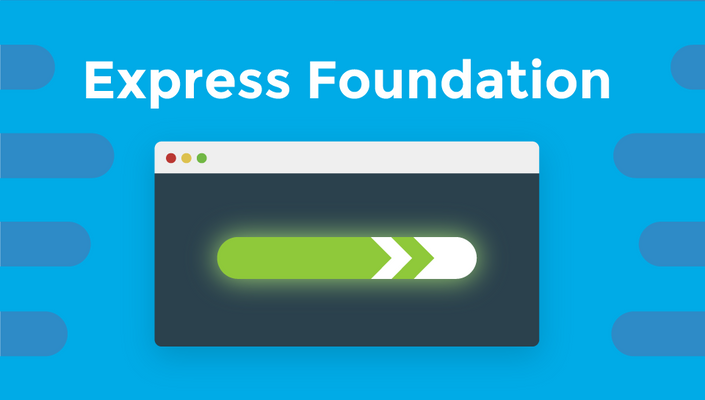 Express Foundation
Start Building Web Apps and RESTful API Using The Most Popular Node Framework
Total value of 32 courses: $1,000+ USD
Total value of experience and community: priceless.
Community for Meetings, Discussions and Collaboration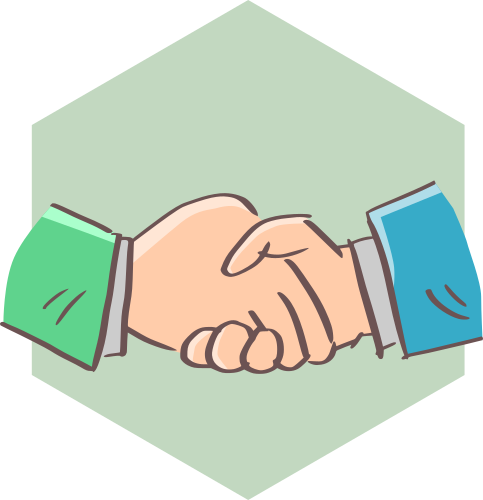 The mission of Node University is to provide premium online education in a fast-changing world of information technology.
It's a university, not a library. You pay for experience, community and skills, not just the content!
Node University is a safe space to learn—Slack community and monthly webinars.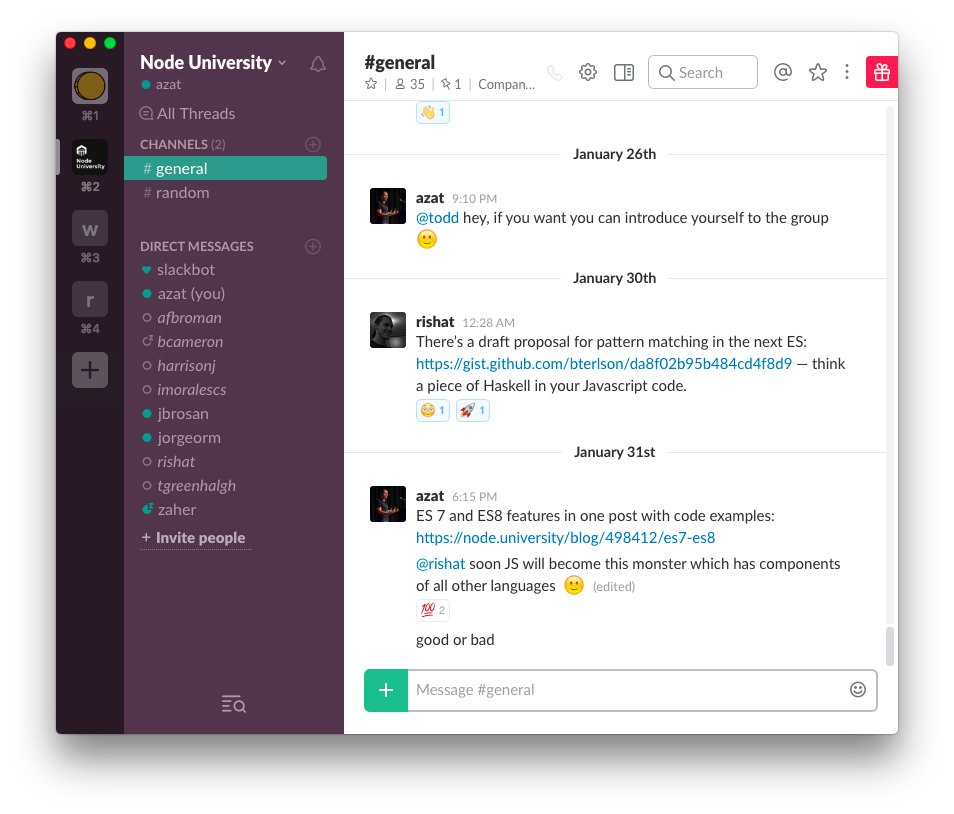 Testimonials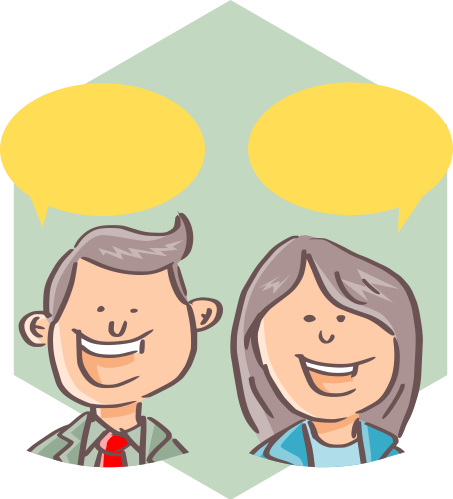 Listen to what other Azat and Node.University students are saying:
Hello Mr Azat,
Thank you for being an awesome instructor and writer. I have maybe 5 books that you wrote and now I have 3 or 4 courses at Node University. I am glad that I discovered your courses. They are easy and now I work with Node which I like a lot!
Cheers,
Felipe Santiago.
Or this fellow who joined paid mentorship (premium plan):
Hello again,
Thank you for the course, really like to watch a skilled and acknowledged programmer instead a kind of random guy who just make course and have little to no idea. Your course is great because covers many aspects and it's complete. Good work. After I signed up for your mastermind and mentorship, I got a promotion in just 2 months!
Regards,
Maciej
PS. I wont spam you anymore on this email.
The class on NodeJS was incredible. It was intensive, but at the end I had so many questions answered and was able to accomplish so much more than what I had tried to teach myself in the past 7 days.
– Joshua T.
At first, Express.js reminded me a lot of manual routing when building a Sinatra application in Ruby, but once you moved onto middleware and passing references, it clarified how to structure syntactically in Javascript, which was confusing to me initially. The entire Express.js pdf is something I am still studying and it is very helpful.
– Chris B.
Azat, I've been a fan for a couple years now. I've read four of your books and finally saw you talk in person last year. I was so stoked to make it into the soft launch and ripped thru your Express Foundation course over the weekend. Keep up the great work!
– Richard S.
So if you value your time and want to learn Node from the expert, join a community and get coaching, then Node.University is for you.
But that's not all. There are even more testimonials.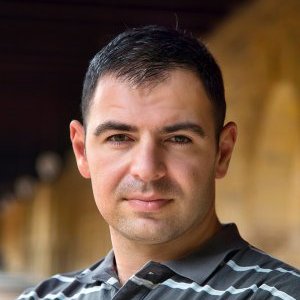 "Azat is a great professional in Javascript / Node.JS development, as well as an excellent tech mentor. He has extraordinary abilities in coaching other engineers and takes them to the next level of web-development. His projects, as NodeProgram (http://nodeprogram.com) and Node University (http://node.university), has a very detailed content related to React, Node, and JavaScript.
As an engineer, I have enjoyed having Azat's books and his video lectures on my favorite lists. Looking forward to learning something new again with Azat in the future."
– Alexey Bushnev, Senior Software Engineer at Apple,
Cuppertino, California, USA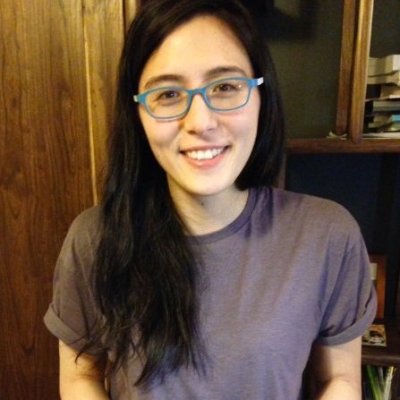 "Azat infused his workshop with an impressive breadth and depth of expertise on topics ranging from the myriad reasons why Node.js is taking over enterprise to the intricacies of the React lifecycle, while always making sure to communicate both verbally and visually in an accessible way for all of the attendees, making the 2-day event not only incredibly useful, but really fun too:)"
– Claire Hsu, Software Engineer at Hack Reactor
San Francisco, California, USA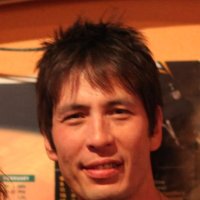 "Azat has been a great resource in my journey to learn JavaScript, in particular, NodeJS. He is a great communicator and has been a great mentor and coach.
I've joined his Node University and have found it very helpful, I can recommend it to anyone new to the Node eco-system."
– Tony Brown, Developer at PTC
Boston, Masachusettes, USA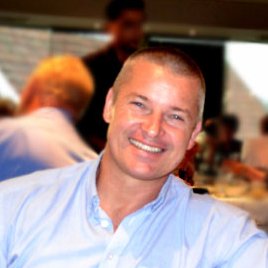 "A huge thank you for these courses. One of them has become the bible for me - the place place of reference - and I really appreciate everything...
Since you are involving AWS in the NodeUniversity courses - you have solved a huge gap in my skills set... Now that I have more knowledge in AWS, I am being requested to write services to up load and configure CloudFront...
Thank you for such a quick response - you are a life saver."
- Mark Wybrow, Tech Lead at SiteMinder
Sydney, Australia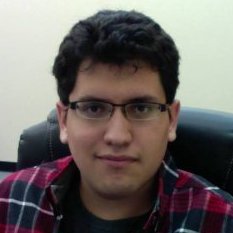 "One of the things I told people in the middle of my CS undergrad is that they should put their ears to the ground, and assume they will be working on an internet world. I told them many times over to learn that we should all know how to write a REST API, how to get hello world to work on a server, how to set up a simple Digital Ocean / AWS vps, etc. I was routinely ignored, with scoffs and jeers.
The skills that I obtained in self-driven learning, thanks in part to Azat Mardan's materials and Node University, I left college gainfully employed. Why? Because I went beyond, I trained after school, and I did research on several topics at a time"
- Eduardo de Luna, Lead Software Developer at NLW Consulting LLC
Spring, Texas, USA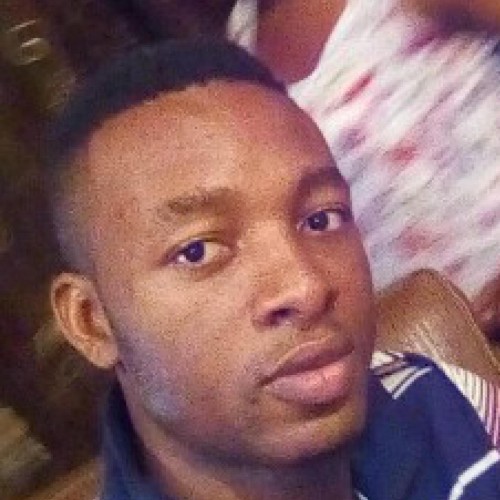 "I really appreciate the prompt and very helpful reply. Thanks a million times for. I do not work for any company yet. Am a student trying to learn how to code in order to solve the problems of my community. I am from Nigeria. I'm well on my way to becoming a node expert with these quality courses... especially a free course that teaches beginners how to work with nodejs, express,(write API's) and a database. Keep up the good work and thanks again. "
- Divinelove Sam, Student
Lagos state, Nigeria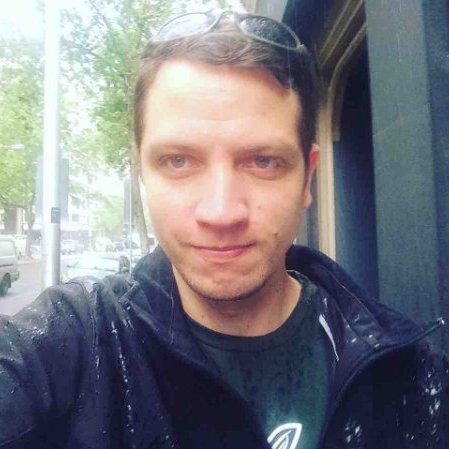 "Thank you for being an awesome instructor and writer. I have maybe 5 books that you wrote and now I have 3 or 4 courses..."
- Felipe Santiago, Freelance Front End Developer
Melbourne, Australia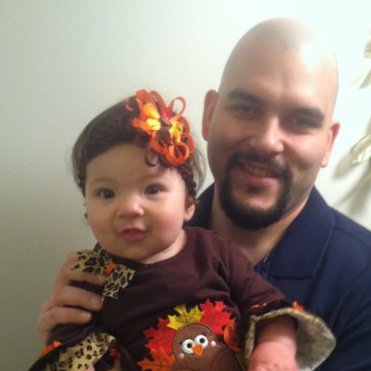 "Hello Azat,
I am very impressed with your courses at Node University. You obviously are very talented developer."
- Jean Marcel Belmont, Software Engineer at Genesys
Fayetteville, North Carolina, USA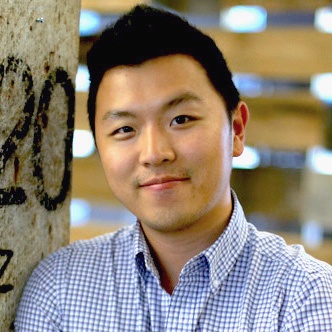 "Your Node.js content had always been a joy to read and was very handy for us implementing test automation with Node. Looking forward to the updated editions."
- Mek Stittri, Engineering Manager at Airware
Mountain View, California, USA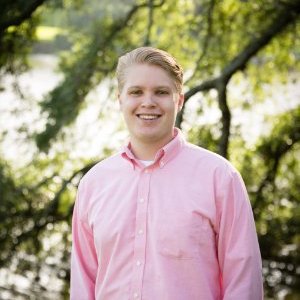 "Hi Azat, I enjoyed the Capital One React webinar today, lots of great information. +1 for VSCode. Snagged a copy of your book React Quickly, too; looking forward to dive in. I'm really liking Node University so far. Excited to see what the future holds. Cheers!"
- Josef Aidt, Programmer at Franciscan Missionaries of Our Lady Health System
Baton Rouge, Louisiana, USA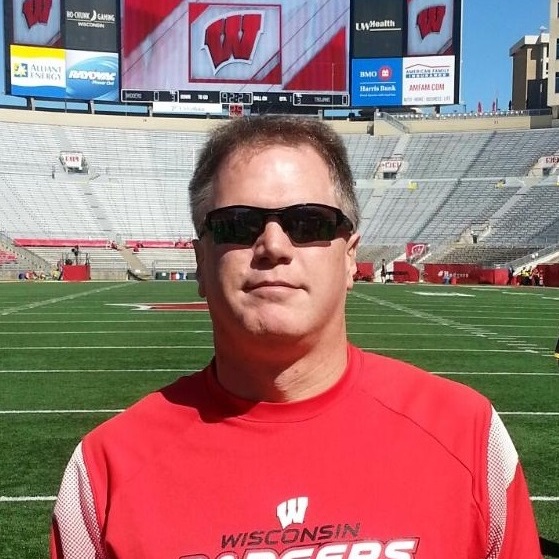 "Azat does a great job of explaining all of his topics and has good examples that help me learn quickly"
- Greg Kruse, Full-stack Software Engineer at Northwestern Mutual
Milwaukee, Wisconsin, USA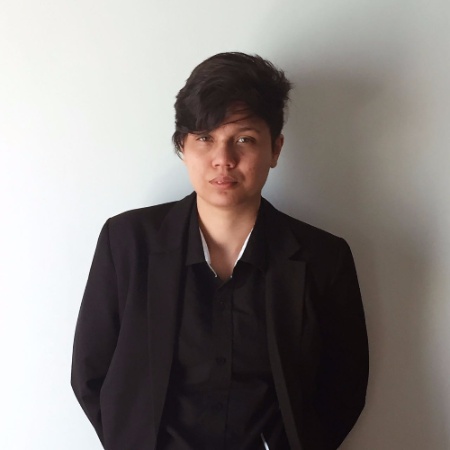 "Hello Azat, good afternoon! I'm one big fan about you. Now, I'm saving money for getting your courses in Node university, because in Brazil dollar is very expensive 3x +, and I don't know if you know about here, is complicated! Haha
I'm studying your free courses and there is little time to finish all them.
Thanks for sharing your bits of knowledge. And your article in the Node university blog about ES6 and ES7 features is awesome!! When I grow up I'd like to be like you. Best regards,"
- Sayuri Mizuguchi, Javascript Developer at BSI Tecnologia
Brasília, Brazil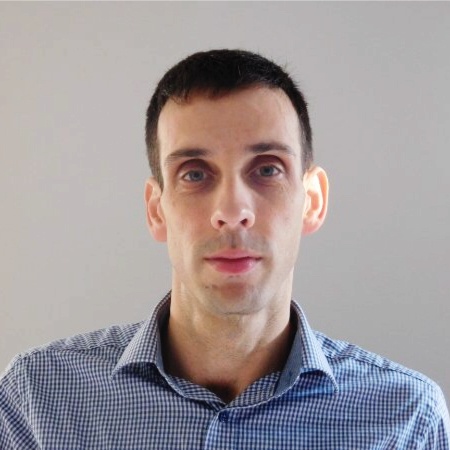 "Tnx a lot for the great course! I got the full stack web development certificate and am going through some of your great material now."
- Tom Coudyzer, Consultant at Iptor Supply Chain Systems
Bruges Area, Belgium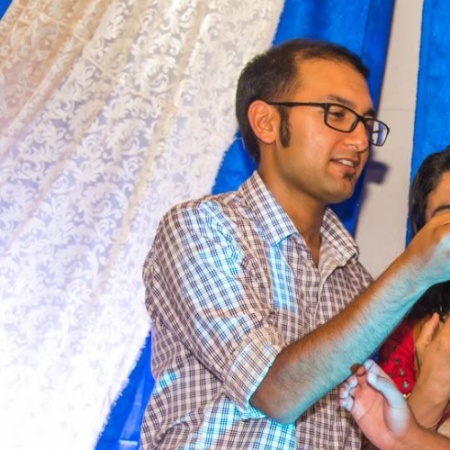 "I love the slides and how detailed they are. I am impressed with the full width and depth of information. I've only finished one of the smaller courses but I am hooked."
git commit -m "Sincerely -Dave Banerjee-"
- Dave Banerjee, Developer at DIVERSANT
Plano, Texas, USA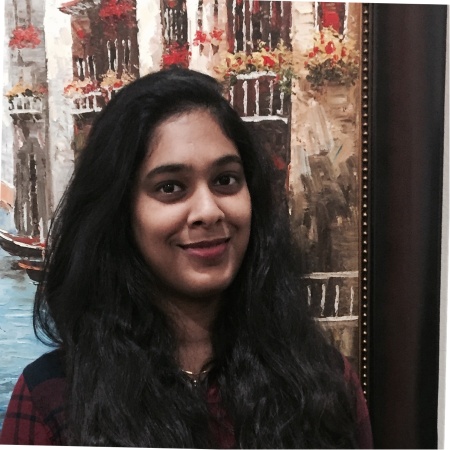 "Hi Azat, Hope you are doing well! Thank you for connecting. I have been following your Node University posts and took you class in edX. I just wanted to thank you for your courses. There were lot of material on net on topics of Node and React but nothing got me the concept. I'm not a very good coder but I wanted to be one. Because of your courses I have been able to get a job. Thanks a lot."
- Dave Banerjee, Application Developer at State Street
New York, New York, USA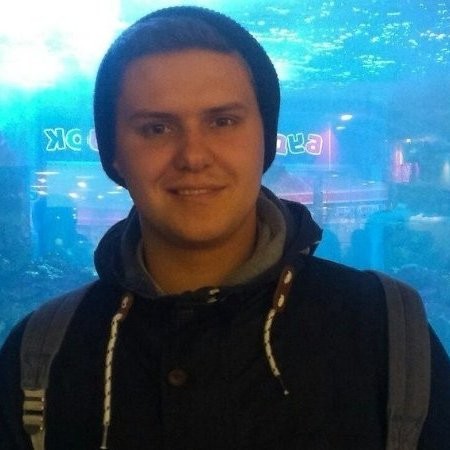 "Thank you for your great courses! :) I completed the course for ReactJs named "React Quickly Summaries and Chapter Introductions" and for NodeJs "Node Toolchain" at Node University. I am very pleased with the information that I learned from these courses. Today i have a free subscription plan, but in the near future I plan to purchase a paid subscription. Thank you for accepting my request. I will follow the course updates at Node University."
- Mark Karnaukh, Junior Web UI Software Engineer at SoftServe
Kharkiv, Ukraine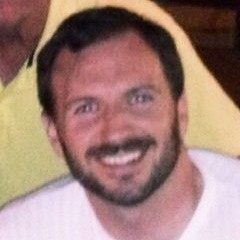 "Your courses in node.university really helped me! Now I love JS so much I need to show my new place of employment what we can do with it! I believe my new employer has hired me because they want to get onto the newer Node stack train, so it will be interesting to see how it goes."
- Sean Hoar, Web Stack Developer at Computer Futures
Washington, DC, USA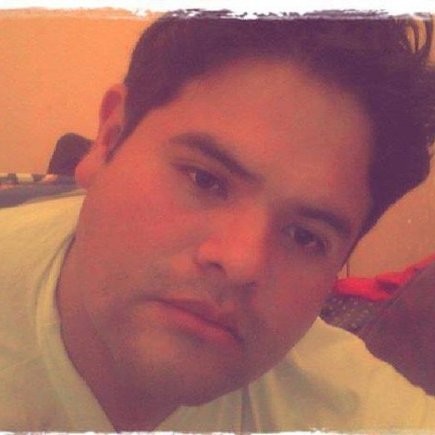 "Hi Azat my name is Manolo Alvarez I'm from Bolivia is a pleasure write with you I appreciate your videos and the information that you share with the community I want to be like you I'm following your videos!"
- Manolo Alvarez, Software Developer at Jalasoft
Cochabamba, Bolivia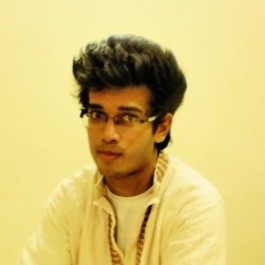 "I am a recently graduated student from Bangladesh and just started working in a software company. Here I am working on mostly Java technologies but I have a pretty keen interest in learning Node JS. I really like the contents of "You don't know Node" course."
- Shabab Karim, Associate Software Engineer at Therap Services
Banani, Bangladesh, USA
"Hi Azat, I have taken a few courses at node.university. The course content is really good."
- Jaya Lekhrajani, Full Stack Developer Intern at The Norfolk & Dedham Group
Boston, Massachusetts, USA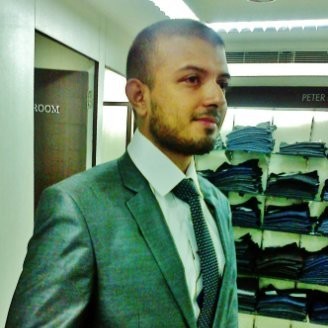 "Your courses are offering great value. Thank you very much."
- Souvik Kundu, Web and Big Data enthusiast
Bengaluru, Karnataka, India
Premium yet Affordable Pricing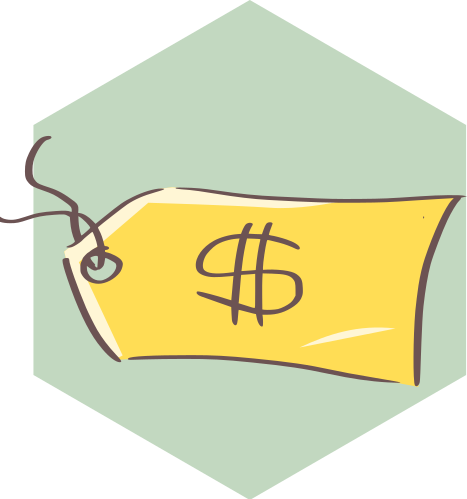 How much does a college degree in Computer Science the US cost? Do you think it cost anywhere from $40,000 to $120,000 depending if you go to a community college or an Ivy League top-tier school. You are WRONG! With opportunity cost of not earning an income for a few year while attending the school full-time, the full cost could be as high as $500,000 USD.
What's even worse is that all that money won't guarantee you a better job or a job at all. Most university don't teach Node, React or Amazon Web Services. They are stuck in early 2000 at best if you are lucky and they have Java courses. Most don't even do that and only teach C/C++ or Python. So 1990s! The job market demands full stack developers and companies are happy to pay for this talent. That's why Node University allows to upgrade your skill on-demand in your spare time and do it at a fraction of the cost of legacy universities.
For those who want to learn more and at a faster rate, Node.University provides hassle-free, easy UNLIMITED access to help you meet your personal goals. Whether it's community, cutting-edge content, offline viewing, code samples, being able to learn through discussion with peers, or even getting personal mentorship from the experts; we have you covered!
New courses available ONLY to our premium members. Become a premium member and get access to this course.

Start learning "NodeU Membership" now!
Join 20,000+ other developers and start learning now!
All membership plans come with DRM-free content: offline viewing and downloading, source code.
Most courses have transcripts and captions in English.
NodeU offers a 30-day money back guarantee on all purchases.
Need PayPal or another payment option? Email ✉️ us at hi at node dot university.
Interested in a corporate plan (10+ developers)? 🏢 Email us at hi at node dot university!
Why I Created Node University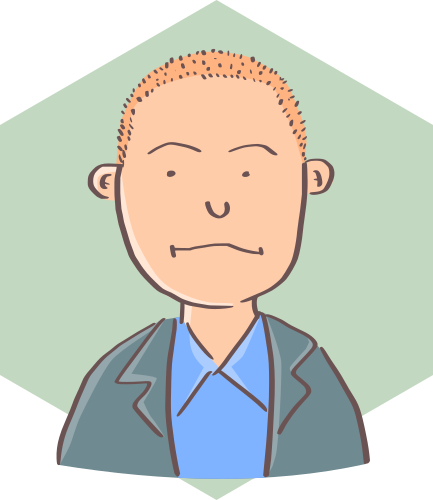 In my career, I have personally experienced and witnessed all the challenges to coding.

I've started a job and found the previous team left zero documentation for me. I've worked problems alone, wishing I had someone to talk to about it. I've lost interest in projects due to lack of progress.
And I've seen what happens when even talented coders don't stay on top of the latest advancements. Node.University is my answer to all of those challenges and more.
The best resources.
The best guidance.
The best freedom to learn the way you want...
So why should you trust me as your instructor and Node expert?
Good question!
Your Instructor
Frequently Asked Questions
What tier should I choose?
The Mastermind tier provides the best value but if you are serious about taking your career to a new level, consider investing into
Expert Mentorship
.
Is this only for Node? What about front-end tech like React? Angular?
Yes. This service will have (and maybe already has) front-end materials as well as courses on HTML, CSS, Computer Science and more! You can submit your requests to new content.
Is this a real accredited university? Will I get a diploma?
No. This is not a real brick and mortar university like Stanford or Harvard. Node.U is an online school and we don't issue diplomas at this time.
When does the course start and finish?
The course starts now and never ends! It is a completely self-paced online course - you decide when you start and when you finish. That's the benefit of online courses—you learn at your OWN pace. You don't have to watch a lecture if it has already familiar to you material. Just skip it or play on 2x. You can rewind/replay other videos which you didn't quite grasp the first time. Try doing it in a live class!
How long do I have access to the course?
If this is a premium membership course, you will have access to it as long as you are member. If it's a free course, then you will have access as long as Node University is around. Check out our
premium membership
to support Node University and enroll into this course.
What if I expected something else from a course? Can I get a refund?
Yes you can get a refund or you can take another course! If you are a premium member, you can cancel your subscription at any time. No lock-in. No drip bull shit. All content is downloadable from day 1. And a 30-day refund and you can keep whatever you downloaded.
How can I take this course? It seems to be closed for enrollment.
This course is our earliest, freshest, the best content... access to which we reserve to our supporters, students who pay a small amount each month to get access to early content like this course. Check out
Premium Membership
for more details. Once you are a premium, you'll get this course!
Will there be coding? What to expect?
Expect 50% lectures in the form of videos with slides and occasional face of an instructor. Other 50% is spent coding along or by yourself and reading reports, articles and other written material. The source code is on GitHub as well as the slides.
Do I get a certificate? A degree? A student visa to the USA?
Right now Node University does not issue certificates but might in the future. There are no degrees and Node University cannot sponsor anyone for a USA visa.
Is this a real accredited university?
No. Node University is a 100% online service focused on cutting-edge software engineering technologies. NodeU is not an accredited university but often time more convenient, affordable and effective than real traditional institutions.
Is this Node School? Are you related to Node Foundation?
This is not Node School. For Node School, visit nodeschool.io. And no, we are not related to Node Foundation, but some of our instructors are members and active participants in the Node/Linux Foundation and the Node community.
Frequently Asked Questions
What tier should I choose?
The Mastermind tier provides the best value but if you are serious about taking your career to a new level, consider investing into Expert Mentorship.
Is this only for Node? What about front-end tech like React? Angular?
Yes. This platform will have (and maybe already has) front-end materials as well as courses on HTML, CSS, Computer Science and more!
How long do I have access to the course?
How does lifetime access sound? After enrolling, you have unlimited access to this course for as long as you like - across any and all devices you own.
What if I am unhappy with the course?
We would never want you to be unhappy! If you are unsatisfied with your purchase, contact us in the first 30 days and we will give you a full refund.
When does the course start and finish?
The course starts now and never ends! It is a completely self-paced online course - you decide when you start and when you finish.
Is this a real accredited university? Will I get a diploma?
No. This is not a real brick and mortar university like Stanford or Harvard. Node.U is an online school and we don't issue diplomas at this time.
Join Node University Premium Now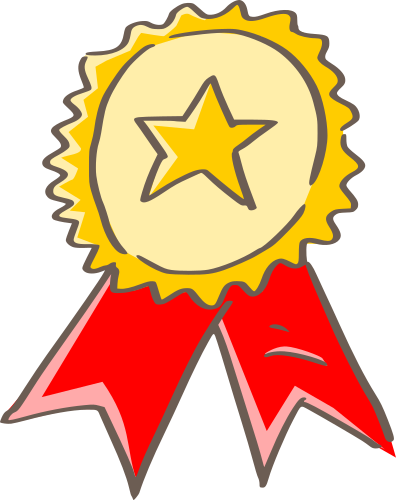 Why try to solve trivial problems which have already been solved?
Who wants to waste their precious time?
Let's instead ship code that matters!

If you have any questions, queries, or comments, I would love to hear from you. Feel free to contact me at any time.
–
Be great,
Azat Mardan
Founder of Node University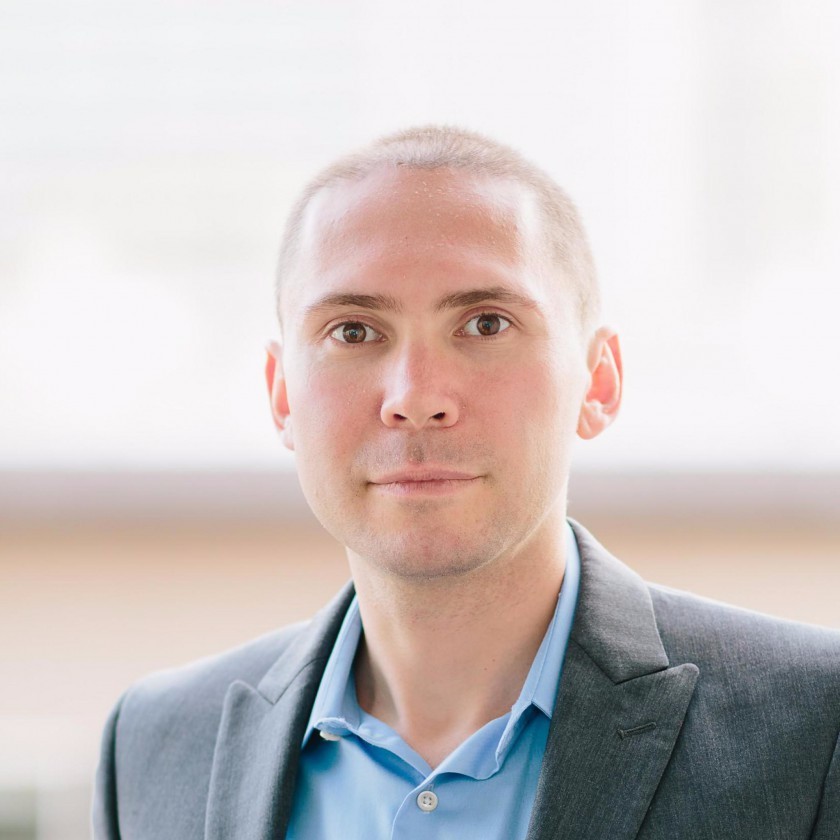 NODE UNIVERSITY IS
TAX DEDUCTIBLE
US Treasury regulation §1.162-5 Expenses for Education sections (a)(1) and (a)(2) of IRS Code allow you to deduct Node University from your taxes.